PROJECT OVERVIEW
CLIENT/TALENT: Mio Frye, Founder & Lead Brand Designer of The Indigo District
CREATIVE DIRECTOR:Haley Gavagni
PHOTOGRAPHER: Tatianna Grodecky
DATE: Monday, June 13, 2022
SHOOT DETAILS: 2-hr brand shoot; creative direction, posing, and styling included; all images captured delivered
CAMERA SPECS: Sony A7iii, 24-105mm lens
MOOD & LOOK: Working remote on the beach. Professional yet fun and free. Natural look with pops of color. Burnt orange blazer, yellow bandana in hair, bold red lipstick.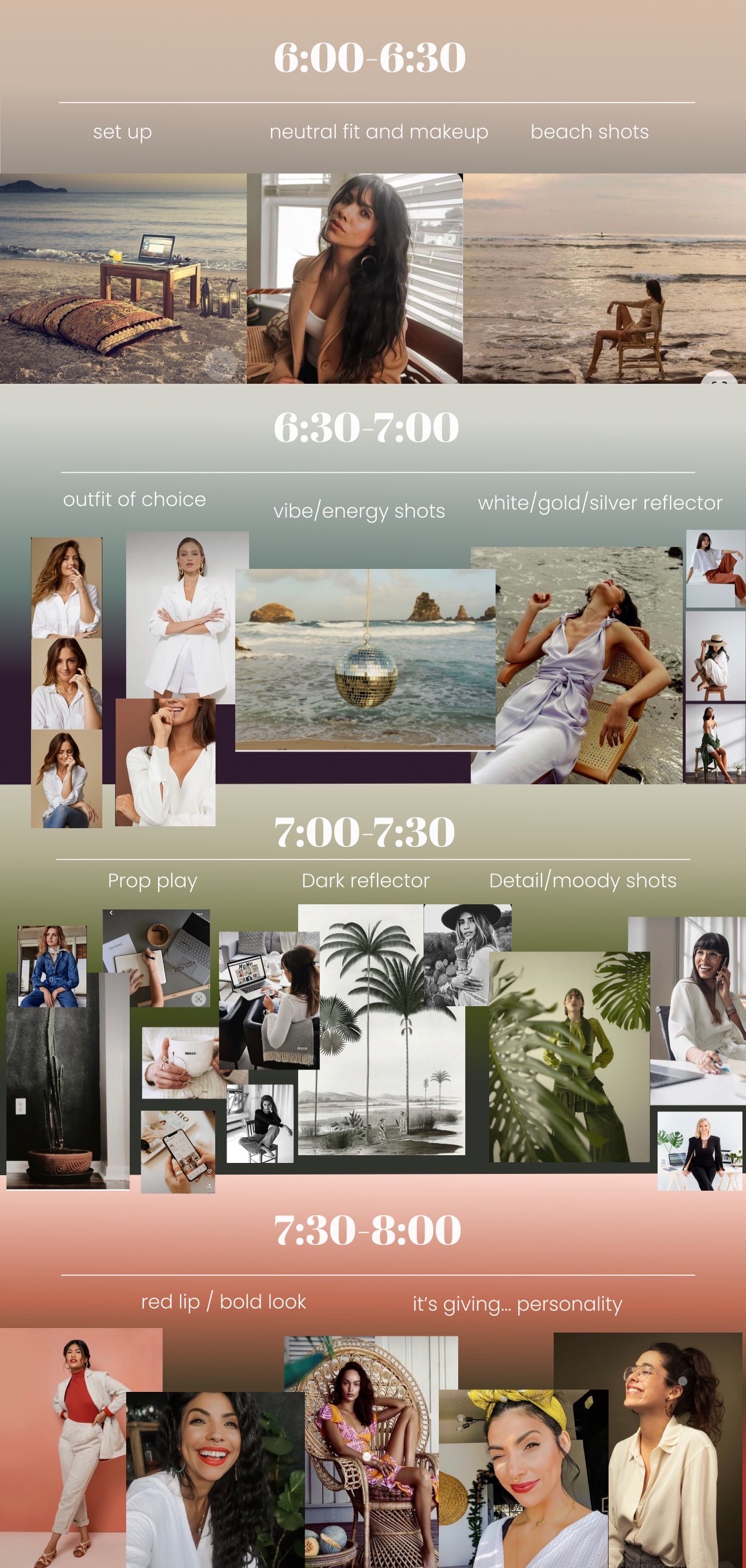 Shoot at sunrise or sunset? We went back and forth with this one. Shooting at sunset would have meant the chance of more people, vehicles on the beach, and those Florida afternoon showers. Being on the East Coast, the sun rises on the water which allowed us to create different silhouette looks. Having her turn parallel to the ocean casted warm light, hard shadows, and intense contrast.
We ran into a few challenges when we had her face the ocean. Even though she was well lit, my shadow and the houses/trashcans in the background created some elements to have to work around. The disco ball and orange blazer were fun additions we all enjoyed playing with. We kept saying "Grinch hands" when holding the disco ball above her head.
Talk about another fun prop. This gorgeous wicker rattan chair gave off some major queen energy. I kept thinking of Yzma from Emperor's New Groove. We had a fun time styling these shots especially when adding in the bold colors from the bandana and lipstick.
Few things we learned:
As a photographer, working with a Creative Director was the absolute dream. Haley managed all posing, styling, and props which allowed me to focus solely on shooting. This created a smooth and fun shoot for everyone.
Get yourself a behind-the-scenes shooter. This could be a friend, newer photographer, or in this case, the client's daughter. We loved having her there to help out and provide more fun elements to the shoot.