WinShape creates next-level camps that turn summers into meaningful experiences for campers and families. WinShape offers both boys and girls overnight camps, day camps, and international camps.
Staff Conference is a yearly conference for all summer staff serving at each camp location. This is a time for staff to develop relationships, receive training, and prepare for their summer roles.
Client: WinShape Camps – Staff Development
Deliverable(s): Full event coverage, 2-3 minute long recap video
Timeline: Tuesday, May 24 – Saturday, May 28; video delivered Saturday morning by 8:00am, shown during final session
video specs: Sony A7iii, 24-105mm lens, 1080p at 120 fps, handheld with on-camera Rode shotgun mic
So, imagine WinShape's Leadership Weekend but 4x more. More staff, more programming, more training, more games, more laughter, more emotions, more friendships. The turnaround time for this project again was a quick one. There were so many instances multiple trainings and events were happening at once in various locations. I had to be very strategic with where I was, when, and what shots I wanted to capture.
Going into the week, I knew the summer's camp theme, More To Explore. I did my best to replicate some of the visuals into the recap – outer space, video glitches, quick cuts, muffled voiceovers, VHS elements, and light leak overlays.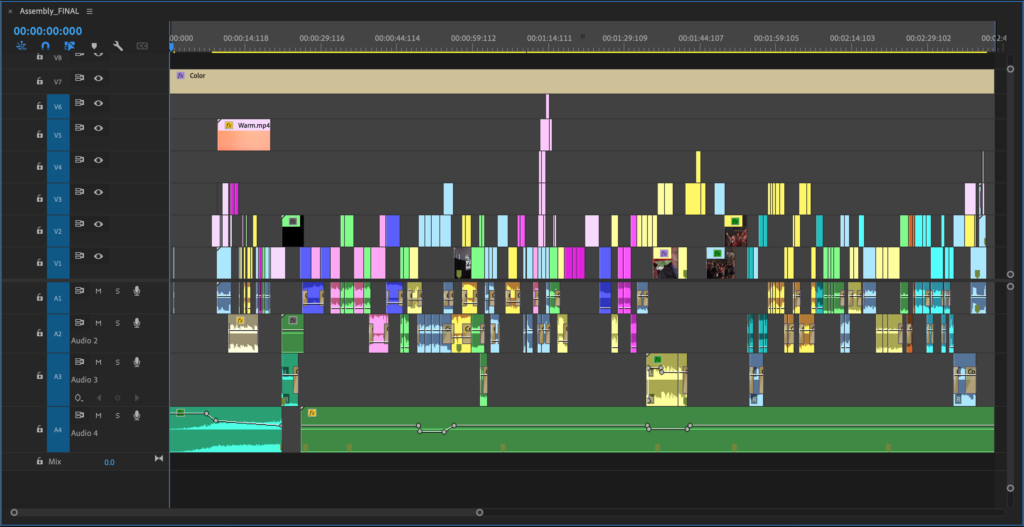 Here are a few things I learned shooting the event:
I made selects as soon as possible. After any programed part of the day I would dump footage, pull into Premiere, and make selects. Each element of the day had a different sequence for selects (Ex: Arrival, Opening Show, Coffee Social, Session 2, etc.)
I delegated some work. I passed off my GoPro to get shots of the dunk tank and inflatable obstacle course. I handed off my camera (to a trusted friend) to capture some fun interview moments. I also had another trusted friend grab some drone shots for me. Teamwork does in fact make the dream work!
Fake candles. Enough said.
Editing in the green room backstage was the move while on site. Most work was completed late at night in my hotel room.
Sometimes you have to let yourself create "crappy" work in order to grow and therefore create a masterpiece. I had many moments I didn't like anything I was doing. Nothing. It was frustrating to say the least. I learned to acknowledge those thoughts, ignore them, and then continue working.
I've had the pleasure of now experiencing five Staff Conferences beginning in 2017, each year working in a different role. WinShape's community is unlike any other. The organization has played a huge role not only in my professional life but also personal and spiritual. Returning to this family for the week was so refreshing and a huge honor. Can't wait until the next event, WinShape 😉
Mackenzie C.
Tatianna is amazing to work with! She not only produces a quality product, but her videos are full of heart, captures the essence of the experience, and she alone is a total value add to the team. She meshes so well and makes sure she is organized and prepared for the event by communicating clearly and doing check in meetings to make sure we are all on the same page. 10/10 would recommend Teael Creative for your next event!
Kenny M.
Teael Creative is an incredible company that partners with you from beginning to end, with excellence. No matter your crazy idea, Tatianna will get on a call, ask questions throughout and put a creative spin on your project that will blow your mind. My team at WinShape Camps LOVES using Teael creative for all of our video needs.